Click on one of the above "Plan Your Journey now!" of our two favorite river cruise lines for itineraries, pricing & booking.
Or Call Us: (239) 642 - 6616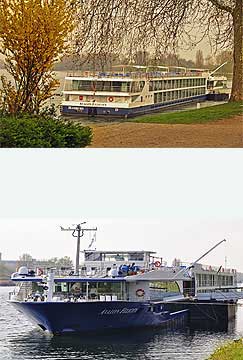 You cannot compare a river cruise to a regular ocean-going cruise. There is practically no water movement. The ships are much smaller. Most have three decks of outside cabins on either side of a corridor in the middle of the ship. Lounges and restaurants - one seating - occupy the front and rear of the ship. There are no large crowds getting on and off, as most ships carry from 120 to 160 passengers with a few exceptions in Russia & Asia. Instead of casinos and Las Vegas-style entertainment, you will be enjoying local performers coming on board in the different towns and many times a piano player who entertains at cocktail hour and plays dance music.

There is no more peaceful way to see natural and historical treasures than from a river cruise ship along the world-famous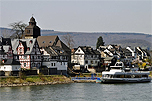 waterways, Rhine River, Danube, Moselle, Nile, Yangtze, Amazon, Mekong Delta, and others. You glide past beautiful scenery on both sides while relaxing on board. When the ship stops, there are excursions planned to visit historic sites, local entertainment, special luncheons, and dinners. Or, you go off on your own to explore. Many times you will be docked in the heart of town making this very easy.
You visit sites normally only reached on a motorcoach tour, by car, or by train. However, you only have to unpack once as your cabin goes with you on your journey in Europe, Egypt, Asia, India, or the United States. Guests also often combine motorcoach tours with river cruises.
The cost of a river cruise is much lower than traveling on your own. You pre-pay in dollars and practically everything is included, even wines with lunches & dinners on some ships thus avoiding many additional expenses in local currencies.
If you prefer to deal on a "person-to-person" basis instead of booking through our website, please fill out the "TRAVEL PLANNER," or just send us an email This email address is being protected from spambots. You need JavaScript enabled to view it.,
You can also call us Monday - Friday between 9:00 - 5:00 EST