America Travel Arrangements, Inc.
1116 N. Collier Blvd, Marco Island, FL 34145
(239) 642 – 6616
www.americatravelarrangents.com

SOUTH AFRICA KRUGER DISCOVERY SAFARI /13 DAYS FROM JOHANNESBURG
Maximum 10 guests on this exclusive itinerary.
TRAVEL WHEN IT IS MOST CONVENIENT FOR YOU.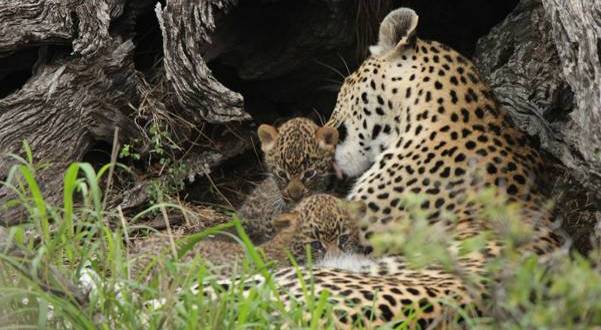 DAY 01 D'OREALE GRANDE HOTEL, JOHANNESBRUG, SOUTH AFRICA
DAY 02 JOCK SAFARI LODGE, KRUGER NATIONAL PARK, SOUTH AFRICA
DAY 03 JOCK SAFARI LODGE, KRUGER NATIONAL PARK, SOUTH AFRICA
DAY 04 JOCK SAFARI LODGE, KRUGER NATIONAL PARK, SOUTH AFRICA

DAY 05 HAMILTONS TENTED CAMP, KRUGER NATIONAL PARK, SOUTH AFRICA
DAY 06 HAMILTONS TENTED CAMP, KRUGER NATIONAL PARK, SOUTH AFRICA
DAY 07 HAMILTONS TENTED CAMP, KRUGER NATIONAL PARK, SOUTH AFRICA

DAY 08 SABI SABI SELATI CAMP, KRUGER NATIONAL PARK, SOUTH AFRICA
DAY 09 SABI SABI SELATI CAMP, KRUGER NATIONAL PARK, SOUTH AFRICA
DAY 10 SABI SABI SELATI CAMP, KRUGER NATIONAL PARK, SOUTH AFRICA

DAY 11 VICTORIA & ALFRED HOTEL, CAPE TOWN, SOUTH AFRICA
DAY 12 VICTORIA & ALFRED HOTEL, CAPE TOWN, SOUTH AFRICA

DAY 13 RETURN TO USA

DETAILED ITINERARY
DAY 01 D'OREALE GRANDE HOTEL, JOHANNESBRUG, SOUTH AFRICA
Welcome on arrival at OR Tambo International Airport, Johannesburg, South Africa and transfer to the D'Oreale Grande Hotel located conveniently near the airport. Relax overnight before the start of your safari tomorrow.
DAY 02/03/04 JOCK SAFARI LODGE, KRUGER, SOUTH AFRICA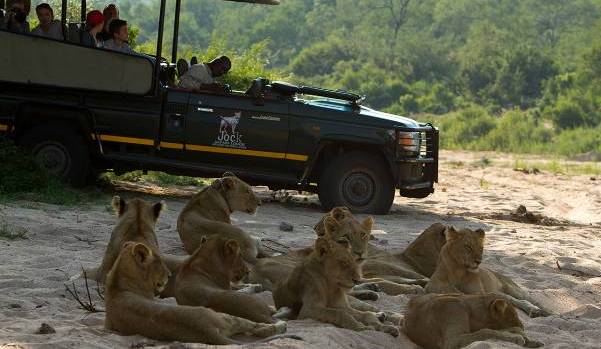 After breakfast, this morning check out and transfer to OR Tambo International Airport where you will board your flight to Skukuza. From Skukuza a road transfer takes you to the Lodge.
The lure of gold brought men from all corners of the world to Southern Africa. Sir Percy Fitzpatrick, author of the animal classic, Jock of the Bushveld, was one of these. The gold-rich capital of Thula Mela, situated on a hill at the fork of the Limpopo and Lebuvu Rivers north of Jock Safari Lodge, served as the trading centre of Southern Africa. The prospectors passed through some of Africa's most scenic, untamed wilderness. It is in this area that Jock Safari Lodge is based, with our Southern Boundary being the old Voortrekker road from Delagoa Bay (now Maputo) to the goldfields of the interior at Pilgrims Rest.

A secluded paradise overlooking serene river beds in the Kruger National Park, carefully screened by lush trees and reed walls, the 12 individual thatched rooms at Jock Safari Lodge, impart a sense of solitude and harmony with the landscape.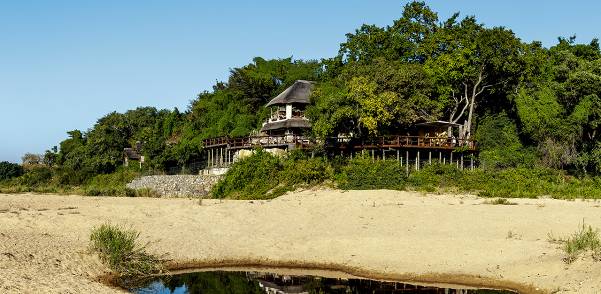 Room Configuration
All 12 rooms can sleep a maximum of 2 adults per room
Room Features
Air conditioning
Private minibar
Hairdryer
Tea and coffee making facilities
Private plunge pool and private decks
International dial telephone
Electronic safe
Ceiling fan
En-suite bathroom, with outdoor shower
Sala (outdoor day bed) overlooking the river
Personally selected books
LODGE FACILITIES
Relaxation Retreat with sauna and exercise room
Gift boutique
In and outdoor dining facilities
Library with TV and DVD player
Pool with deck
Complimentary Wi-Fi and internet access
ACTIVITIES OVERVIEW
Whether you're looking for an exhilarating outdoor adventure or relaxing quality time with loved ones, Jock Safari Lodge in the Kruger National Park has something for you. The lodge with 14,800 acres of natural landscape offers guests one of the best Big 5 game viewing experiences in South Africa with its exclusive riverbed traversing rights..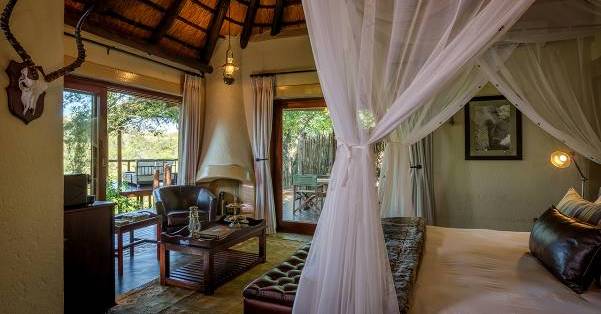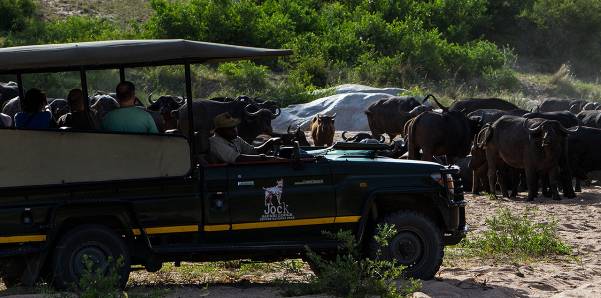 TIMES ARE LISTED AS AN EXAMPLE ONLY AND DEPEND ON WEATHER CONDITIONS/ANIMAL SIGHTINGS AND TRACKERS.
06h00 Early morning refreshments served
06h30 Depart for morning game drive
09h00 Continental breakfast buffet and (plated) hot breakfast is served
12h00 Lunch is served until
14h30 15h00 / 15h30 Afternoon tea
15h30 / 16h00 Depart for afternoon game drive
20h30 Set menu or Braai/Barbeque dinner is served – every alternate night
GAME DRIVES
Morning and evening drives are performed in covered 4×4 Land Cruisers conducted by highly experienced rangers.

Traversing through the concession, the wildlife is sometimes staggering in its diversity. Enthralling sightings of elephants prides of lions as well as a sea of buffalo horns rising from the grass as they lie resting in the growing heat, awaits one. At dusk, a vantage point is chosen to overlook one of the many breath-taking views of the Kruger National Park. Sundowners are enjoyed while tales of the bush are told and a glimpse of what this unique wilderness has to offer is seen while being entranced by the ever-changing colors of the sky as the sun slips into the timeslot of tomorrow. En route back to the lodge, nocturnal animals such as leopard, hyena, and lion are often seen.
DAY 05/06/07 HAMILTONS TENTED CAMP, KRUGER NATIONAL PARK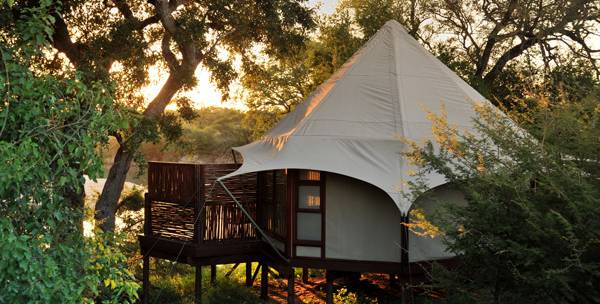 This morning after breakfast you will be transferred by road to Hamiltons Tented Camp where you will be spending 3 wonderful nights.

"Named after Colonel Stephenson Hamilton, who was instrumental in establishing the world famous Kruger National Park, Hamiltons Tented Camp reflects a safari adventure of the early 1900s, where grace and style were the epitome luxurious living. Following the fine tradition of luxury in true "out of Africa" style, the journey into a bygone era inspires one to experience safari. Hamiltons Tented Camp allows indulgence in pure luxury combined with the sounds and smells of the African bush."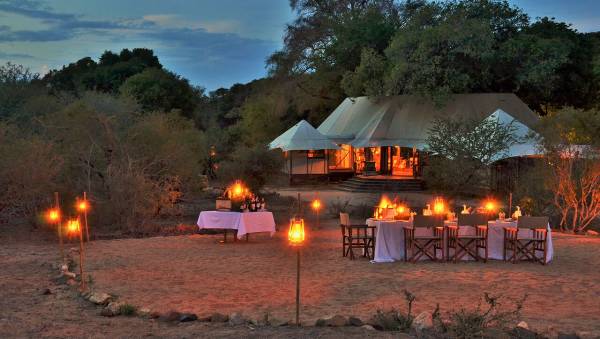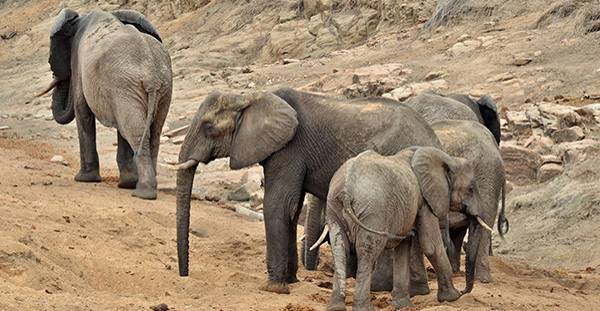 Hamilton's offers luxury tented accommodation, uncompromising elegance and service, an intimate private and secluded setting with views of the Nwatswitsonto River and superb game viewing. Activities at Hamilton's Tented Camp include traditional safaris in "Big Five" country, bush picnics and champagne breakfasts. Wellness treatments are available on request by the African Spa team. These may be taken at the poolside area or on a secluded deck of your suite.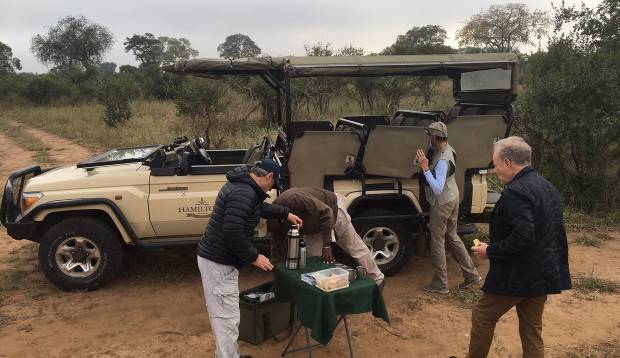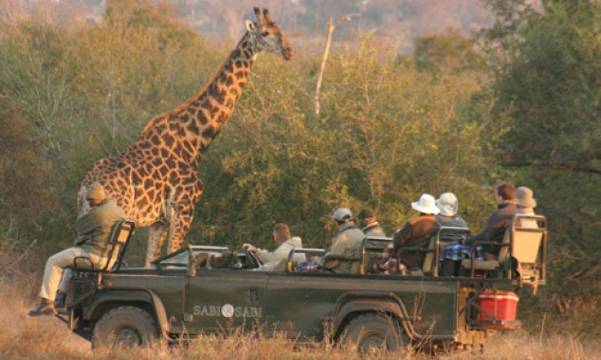 DAY 08/09/10 SABI SABI SELATI CAMP, KRUGER NATIONAL PARK, SOUTH AFRICA

Transfer today by road to the Sabi Sands where you will spend the following three nights at Sabi Sabi Selati Camp.

THE HISTORY OF SABI SABI

The name Sabi Sabi is derived from the word 'tsave', meaning 'fear' or 'danger' in the Tsonga dialect. This stems from the large numbers of dangerous crocodile and hippo in the Sabie River. European hunters first established a camp on the south bank of the Sabie River in 1830. Hunting for game ivory and rhino-horn continued until the end of the century. The discovery of gold in the Lowveld brought a temporary boom to the area.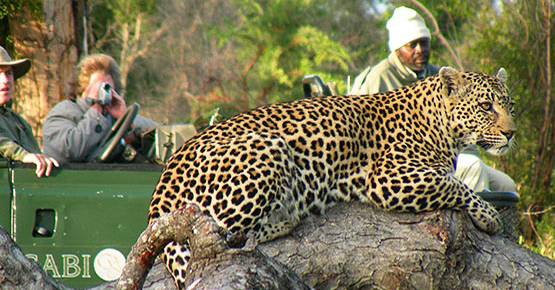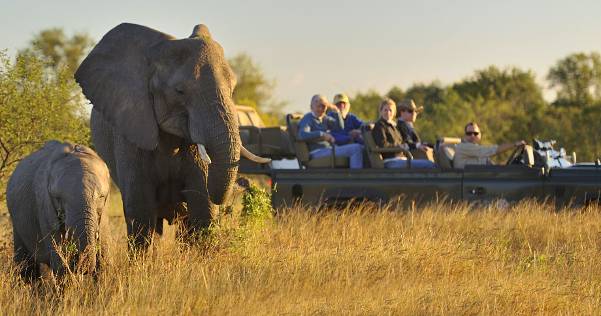 A RAILWAY LINK FOR GOLD
Also in the late 19th Century, construction began on the Selati Railway Line to link the goldfields in the west with the coast. Remnants of this railway line can still be seen throughout parts of the Sabi Sand Wildtuin.
Recreational rail travel into the area became popular in the early 1920's. Game viewing from the comfort of a railway coach was possible, and public awareness was raised as to the beauty of the Reserve.
One of the train stops was Newington Siding, a stone's throw from where the luxurious Selati Camp is situated today. The story goes that one night almost a century ago, the train driver peered into the darkness trying to make out the shapes of potential passengers. There was nobody to be seen at the stop so the train carried on towards Komatipoort.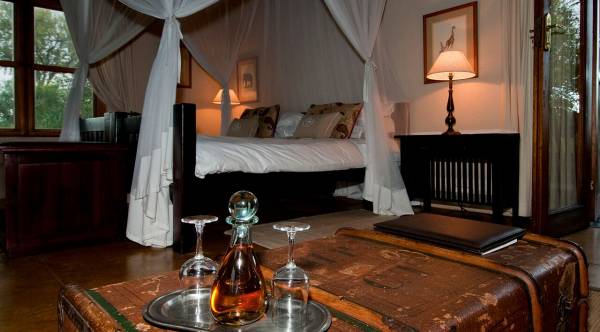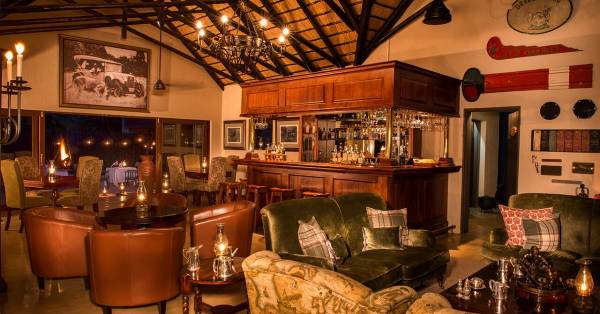 Meanwhile, alongside the track dismayed travelers having been forced into the surrounding trees by a pride of hungry-looking lion, watched helplessly as their train steamed away into the night. The sympathetic railway management eventually placed permanent ladders against the trees for the convenience of passengers threatened by prowling predators! Today Selati Camp is furnished with memorabilia relating to the pioneer magic of the railway era.
LUXURY SAFARI LODGE

Imagine the Africa of the great safari era, when blazing sunsets melted into lantern lit romance and service was an effortless whisper. This is the Africa you will experience at Sabi Sabi's Selati Camp, an award-winning luxury game lodge in South Africa.

During the 1870's, high in the crevices of the Drakensberg escarpment which rises to the west of Sabi Sabi, gold was discovered. To transport the gold, the parliament of the Old Transvaal Republic commissioned a railway line from the interior to Delagoa Bay in Mozambique. A branch railway known as the Selati Line crossed the Sabi Sand Reserve.

Today the line is disused but the old railbed can still be seen in the north-eastern section of Sabi Sabi, close to Selati Camp. Sabi Sabi's intimate all-suite Selati Camp is the most unforgettable of all African experiences. It offers the perfect accommodation for travelers looking for a romantic luxury safari lodge in South Africa. Selati is furnished with a historic railway theme and colonial charm and is meticulously created as an authentic home in the bush. The railway theme extends from the original steam engine nameplates, signals and hunter's lamps lighting the way to your suite, to interesting memorabilia and other collector's pieces in each room.

Originally created without electricity to preserve the ambiance, Selati Camp has now installed overhead fans, air-conditioning and all the trimmings expected from a luxury safari lodge. Nights at Selati are quiet, intimate and possessed of a rare magic. Under the spectacular canopy of the Southern night sky, the camp is still romantically lit by the gentle flicker of oil lamps and lanterns, and the warm glow of fires.
Fashioned in a colonial "Out of Africa" style, this exclusive lodge comprises seven opulent thatched suites, each with full bathroom en-suite and private alfresco shower nestled under majestic indigenous trees. World-class cuisine is served on wooden thatched decks built alongside the Msuthlu riverbed, in the open air "boma" or in the "farmhouse kitchen".

DAILY PROGRAM AT SABI SABI

06:30 Morning safari departs
09:00 Return for breakfast

13:00 Lunch

15:30 Afternoon tea

16:00 Afternoon safari departs

19:00 Return from safari

19:30 Dinner




DAY 11/12 THE VICTORIA & ALFRED HOTEL, CAPE TOWN, SOUTH AFRICA

Depart Sabi Sabi today to Skukuza Airport, where you will board your direct flight to Cape Town. On arrival at Cape Town International Airport you will be welcomed and transferred to The Victoria & Alfred Hotel.

Cape Town is one of the most beautifully situated cities in the world. Cradled by Table Mountain, it has immense charm and historical interest whilst it's unique cultural blend; part African, part European and part Asian, makes for a cosmopolitan dining experience.

Enjoy dinner at the Waterfront.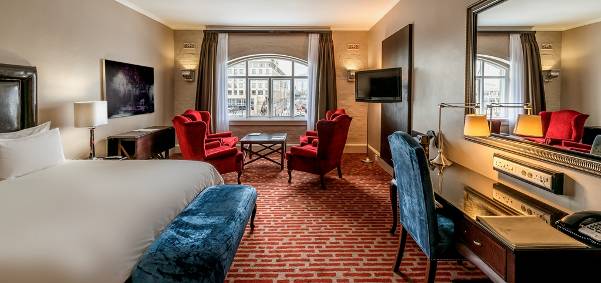 DAY 12 THE VICTORIA & ALFRED HOTEL, CAPE TOWN, SOUTH AFRICA

FULL DAY TOUR, CAPE PENINSULA & GOOD HOPE

After breakfast today we depart for full day Cape point tour. We travel along the Atlantic seaboard passing the twelve apostles.

Drive past Camps Bay named after a German immigrant Ernst Von Kampz, on past Oudekraal toward Hout Bay, an old woodcutters outpost named "wood bay". From Hout Bay we travel over Chapmans Peak - continueing towards Noordhoek –with it's spectacular beach, travelling along the Atlantic Coastline – passing the seaside villages of Kommetjie and Scarborough – with it's supply of Cape Rock Lobster. We then proceed towards Cape of Good Hope nature reserve. Visit the most South Westerly point of Africa (18 deg. East. Lat, 34 deg South Long) and travel to the Cape of Good Hope.

CHAPMAN'S PEAK DRIVE

Chapman's Peak Drive is one of the most spectacular coastal roads in South Africa. It starts at the picturesque fishing harbour of Hout Bay and then winds up to Chapman's Point, revealing breathtaking views of the sandy bays down below, until the road reaches sea level again at Noordhoek.

Stop for lunch at one of the excellent restaurants on this route.

The 4.5 mile route with its 114 curves skirts Chapman Peak, the 593m southerly extension of Constantiaberg and follows the rocky coastline to unfold stunning views in both directions. There are numerous parking bays and picnic spots along the road and on the slopes. A hiking trail with beautiful views leads to the Chapman's Peak.

The Park offers a rich diversity of plant species as well as a marine reserve and animals such as baboons and Cape Zebra. The peak is 600 ft above sea level and can be reached by foot or the funicular railway. The lighthouse at the tip of the Peninsula is the most powerful in the Southern Hemisphere.

Dinner this evening at the V & A Waterfront.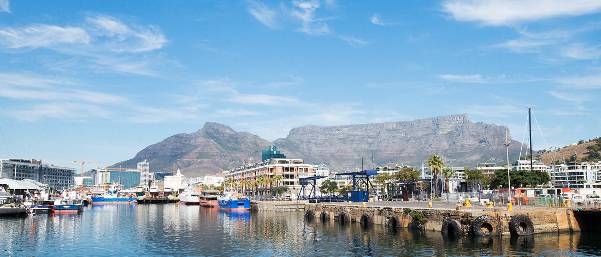 DAY 13 DEPART SOUTH AFRICA

Today after breakfast you will be transferred to Cape Town International Airport where you will board your scheduled flight to Johannesburg to connect with your outbound flight.
PACKAGE INCLUSIONS:
Welcome on arrival at OR Tambo International Airport. Transfer to D'Oreale Grande Hotel
1 night accommodation at D'Oreale Grande Hotel including breakfast
Transfer from the D'Oreale Grande Hotel to OR Tambo International Airport
Scheduled flight from Johannesburg to Skukuza
Transfer from Skukuza to Jock Safari Lodge
3 nights luxury accommodation at Jock Safari Lodge including  includes lunch, dinner, breakfast, two game drives daily, tea, coffee, water and house wine with dinners, game drive beverages, tourism levy . (all other beverages are excluded and can be settled upon departure).
Road transfer from Jock Safari Lodge to Hamiltons Camp
3 nights luxury accommodation at Hamiltons Tented Camp including three meals daily, two safari's per day
Road transfer from Hamiltons Tented Camp to Sabi Sabi Selati Camp
3 nights at Sabi Sabi Selati Camp including accommodation, all standard meals, two game drives per day
Road transfer from Sabi Sabi to Skukuza Airport
Scheduled flight from Skukuza to Cape Town International Airport.
Welcome on arrival at Cape Town International Airport
Transfer from the Airport to your hotel
2 nights luxury accommodation at the Victoria & Alfred Hotel, including breakfast, one dinner (General beverages are not included.)
Afternoon transfer to Cape Town International to connect with your flight home
EXCLUDES:
Any item not specified in the itinerary
Beverages
Spa Treatments
Tours and excursions not specified in the itinerary
Travel Insurance, highly recommended
Gratuities to porters, lodge staff and jeep guides.
Price: Determined at time of booking. (International airfare from your hometown to Johannesburg is additional).

Due to the special arrangements for our private safaris, small numbers of participants and limited availability at the exclusive properties we use, all payments are non-refundable and we highly recommend travel insurance. We gladly assist.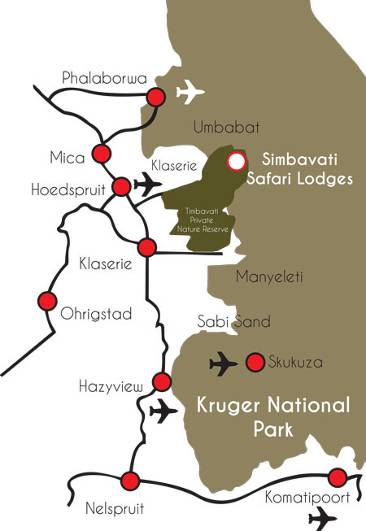 America Travel Arrangements, Inc.
1116 N. Collier Blvd, Marco Island, FL 34145.
(239) 642 – 6616
www.americatravelarrangents.com